Share this article:
By Cathy Lara | Houzz
Interior designer Darci Goodman had some wooing to do when it came to this Long Beach remodel. Her clients, a couple with three kids, were confident in her work, but the husband needed convincing. "I think he only saw dollar signs in the beginning," Goodman says. "But after the first set of tiles in the bathroom was installed, he saw how the space was able to breathe and get a second life."
The designer transformed what she says was once a "run-down, characterless" house into a traditional home that leans Mediterranean — a style Goodman calls California Mediterranean — and perfectly fits the family's laid-back lifestyle. See Another California Mediterranean Style Home.
---
Houzz at a Glance
Location: Long Beach
Size: 4,500 square feet
Designer's challenge: Getting the husband to realize the value of an interior designer's work
---
The sea, sand and clouds inspired the living room's palette. The traditional, symmetrical furniture placement gets an update from turquoise accents and coastal tokens: a collection of coral, seashells and starfish, and Mediterranean floral throw pillows in varying shades and patterns.
Coffee table: Restoration Hardware; club chairs: Noir Furniture
Sea grass and abaca chairs, a custom wood table and brass chandeliers add organic texture to the dining area; the wood tones bring warmth to the crisp white walls. Tone Down Shabby Style With an Elegant Chandelier.
Dining chairs: Pottery Barn; dining table: custom, Darci Goodman; chandeliers: Restoration Hardware
The traditional and subdued gray-green shade of the powder room cabinet and masculine captain's mirror are softened by the skinny and playful starfish wall display. Browse Bathroom Mirrors.
The dressed windows, country-chic shade pendant and vintage rolled-rim bathtub bring an elegant and traditional flair to the bathroom; the Mediterranean-inspired hassock serves as a stool and a flat surface on which to throw clothes and towels.
Bathtub: vintage, Kohler; pendant: client's
Photos of the girls and other family members pepper the home with warmth and memories. An enlarged image of the girls on top of child-friendly soft-closing drawers leans against the wall.
Dresser: Ordinal, Anthropologie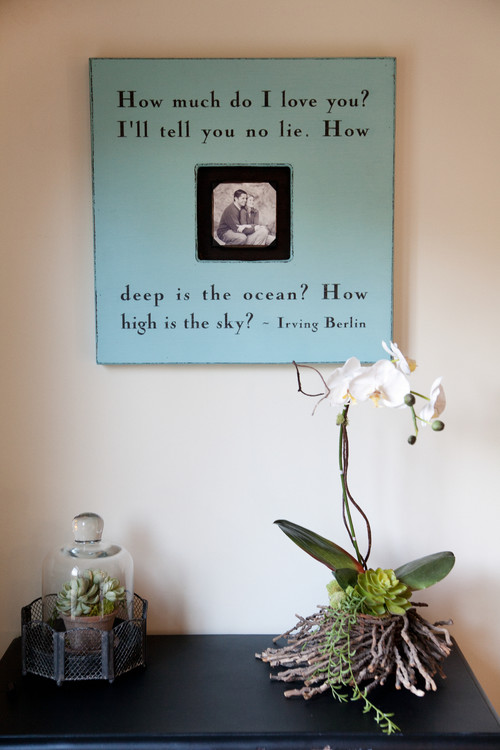 Goodman gave this turquoise frame to her clients when she was asked to help with a party that was being thrown at their house. She found the frame and thought of the couple; the quote reflects their "loving nature toward each other," she says. Goodman adds that she couldn't resist "adding another splash of turquoise" to the home's interior.
The clients wanted their kids to have the freedom to play and grow in the house and with the neighborhood kids who have become their close friends. Goodman describes her clients' community as one where children still play in the streets and parents meet outside to catch up on their lives. "It is a throwback to another era," she says.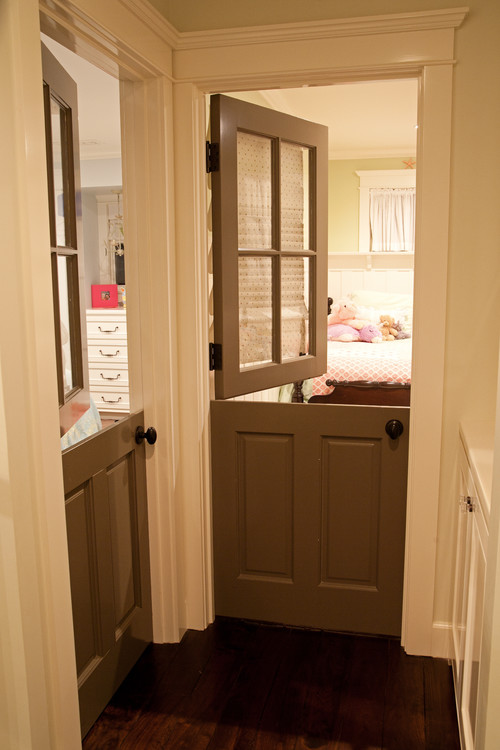 The girls use their Dutch doors as game props for "all kinds of make-believe," Goodman says. The doors give the kids the perfect combination of whimsy and privacy, allowing them to call out to each other over the open top door.
Whenever Goodman looks at pictures of the house, she feels a tremendous sense of joy; the wife's vision of a home that was not too traditional, decorated or shabby was achieved and extended throughout the whole house's design. She "didn't want to go overboard with the shabby part, but she did want the laid-back, relaxed feel of a shabby chic home, which I think we achieved," says Goodman.
As for the husband, Goodman says he eventually sang her praises.
Weekend Design: Renovating a California Mediterranean in Long Beach
was last modified:
January 6th, 2017
by
>> Want to read more stories like this? Get our Free Daily Newsletters Here!
Follow us: