Share this article:
By Brenna Malmberg | Houzz
This Sherman Oaks homeowner, while excited to have a new home, worried that it lacked personality because it was a spec house. When her first question to designer Jessica McClendon was "How are we going to make this place look interesting?" McClendon knew this living room project would be a fun one.
---
Room at a Glance
Who lives here: A family with two kids and two dogs
Location: Sherman Oaks
Size: 225 square feet ( 21 square meters)
Designer: Jessica McClendon, head designer and owner of Glamour Nest
---
The project started with a room plan. McClendon always gets that started first; style preferences come later. "This gives me more time to get to know them before I start sourcing style features," she says.
She sat down with the client and learned how the family of four — plus two dogs — wanted to use the space. They needed it to be a sitting room for a few guests or for their own lounging. The room is just inside the front door, which meant it needed to quickly reflect the family's style and look inviting. But it also needed to withstand kids and dogs.
Next, McClendon surveyed the room and the homeowners' other belongings. She wanted to come up with a plan that would take into account the traditional lines of the home and any pieces the client already owned.
With that information in hand, McClendon measured the space and left the client to gather inspiration photos.
Kismet rug in Navy: Caitlin Wilson; chairs: previously owned by client and reupolstered in Chunari Sage Blue, Raoul Textiles; console tables under windows: Dauphine in Seaglass, Priley Lane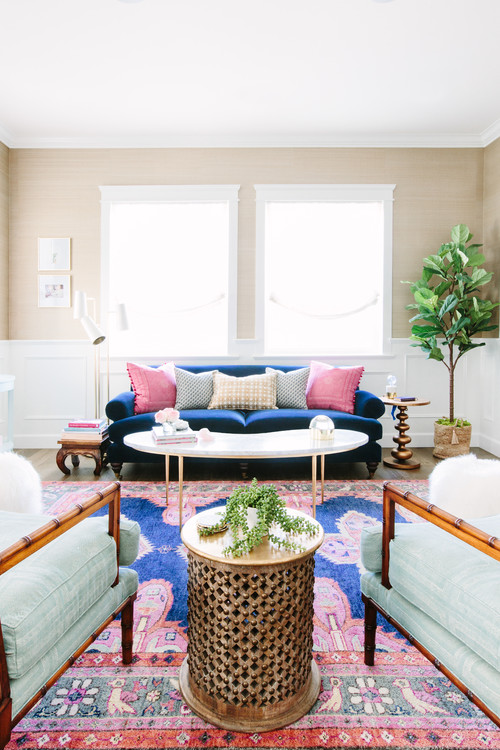 McClendon returned to the home with a few layout options, and the client chose a seating arrangement with two chairs and a sofa. They paired the seating with a mix of side tables, a coffee table, a large rug and two fluffy ottomans. Find Unique Ottomans.
Table between chairs: Stallion, Cyan Design
A few more conversations later, McClendon understood the desired style — glam — and could start creating design boards with specific colors and furniture pieces. "When you can find someone who doesn't take life too seriously, you can be kind of whimsical," she says.
In the end, the room's final collection includes elements with traditional lines, such as the sofa, but in fun, glamorous colors. McClendon loves this combination, and she encourages people not to think they can't use a style they like, such as glam, in a functional room. She suggests figuring out the room's function and style separately, then being strategic to make the combination work.
For instance, a dark and patterned rug was used here to hide wear and tear from kids and pets. Hard surfaces were used for the glam elements such as the coffee table, so they won't be easily damaged. The custom Roman shades, which are away from the action, are dressed up with sequins. Arrange a Glamorous Vignette on Top of a Gorgeous Coffee Table.
"If you are strategic and smart, you can make just about anything work," McClendon says.
Velvet Willoughby sofa in Navy: Anthropologie; coffee table: Worlds Away; ottomans: Anthropologie; faux fiddle leaf fig tree: Pottery Barn; tree baskets: HomeGoods
The project took 10 weeks, with a few of those weeks spent waiting for one last side table to come in.
Then, six months later, McClendon found a wallcovering she knew would take the space to the next level. "I called her right away, and said: 'I saw this paper and thought of you. Do you want to do it?' " The client said yes, and now the walls have just an added hint of texture.
Cypress three-arm floor lamp: Rejuvenation; wallcovering: Sequin, ABA Interiors
A sassy, bathing-suit-clad girl draws your eye to the fireplace. The client already owned this piece, having purchased it years ago because it reminded her of her daughter. "I thought it would be fun to include," McClendon says. "It's the wild card in the room. And I like having a wild card."
The artwork was an old favorite that joined the room, and the gold side table at the end of the sofa quickly became the client's favorite new piece.
Side table: Arden in Antique Gold, Redford House; art above fireplace: "I Will Sell This Lake Today" by Marla Rutherford
The room came together piece by piece, McClendon says. As each item was delivered, it was added to the room. And even when items were back-ordered or took a while, the designer and client stayed the course. "I don't like to settle on items," McClendon says. "We chose things for a reason." Why You Should Try Roman Shades for Some Summer Shade.
A separate design project in the house also draws a lot of attention. When guests enter and look down the hall, beyond the sitting room, they see this cozy breakfast nook. McClendon took on that project at the same time, and she wanted the two rooms to look similar but not exactly alike. She carried over the color palette but dropped in a few industrial elements, such as the light fixture, to give the space its own personality.
Paint color: Athena, Benjamin Moore; table: LexMod; chairs: GLAM Eiffel midcentury-style chair in gold and white vegan leather, Overstock; Tangled chandelier in Natural Brass: Schoolhouse Electric & Supply Co.; vases: West Elm; Roman shades: custom by Home Couture by Teresa Prater in Kashmir Paisley, Peter Dunham Textiles; seat cushions: custom by Home Couture by Teresa Prater in Navy Linen
Weekend Design: Glam living room packed with personality
was last modified:
April 23rd, 2017
by
>> Want to read more stories like this? Get our Free Daily Newsletters Here!
Follow us: