Share this article:
By Mitchell Parker | Houzz
Los Angeles ceramics artist and interior designer Desanka Fasiska's 1963 A-frame kit house seemed to have more working against it than for it. The slanted walls made furniture arrangement awkward and didn't offer much insulation or a place to run electricity and pipes. But Fasiska pushed forward, embracing the strangeness and creating an open-plan home with enough spunk to live up to the stunning exposed architecture. Watch now: Take the full tour of this classic A-frame home.
Fasiska worked with architect Mario Fonda-Bonardi and builder Bulson & Co. Inc. to celebrate the classic A-framing while creating fake beams and capping off existing beams to conceal electricity and plumbing.
She uses the original gas stove to heat the entire home.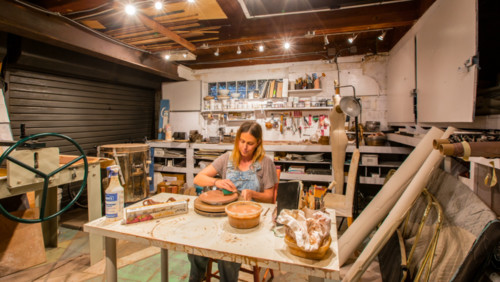 Fasiska, seen here, turned her garage into a ceramics studio, where she has created many pieces that are featured throughout her home. "It's nice to have a home where I can feel like I can be my true creative self," she says. Give Your Studio a Spotlight With Track Lighting.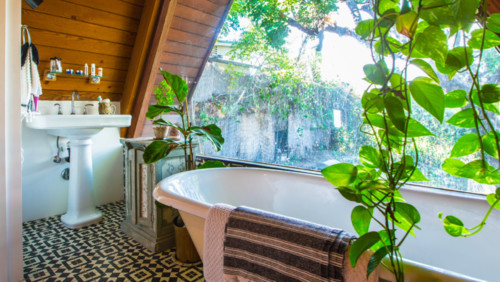 Faced without a bathroom in the upstairs master bedroom, and not wanting to descend the spiral staircase in the middle of the night if the call of nature came, Fasiska tiled out an area smack dab in the middle of her bedroom. She placed a claw-foot tub right next to the window at the top of the A-frame. "It's a wonderful, dreamy way to wake up in the morning," she says. 
Relax in Your Own Claw-Foot Bathtub
.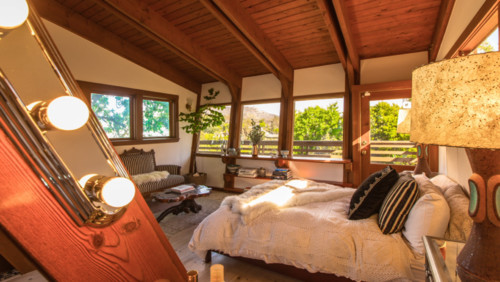 Fasiska describes her style as "Biba meets Big Sur," in reference to the 1960s fashion store and the coastal California region, respectively.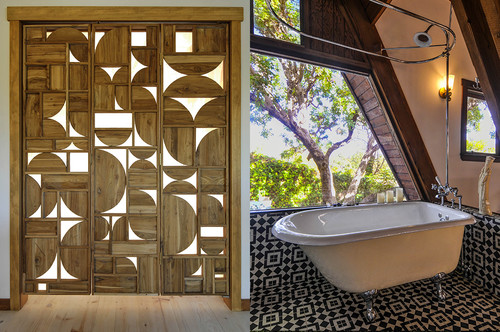 Fasiska really wanted an interesting closet door in her bedroom, and succeeded with this beautifully carved teak room divider by Roost that she had her builder make into accordion  doors.
Weekend Design: LA artist shows creative side in classic A-Frame
was last modified:
November 26th, 2016
by
>> Want to read more stories like this? Get our Free Daily Newsletters Here!
Follow us: